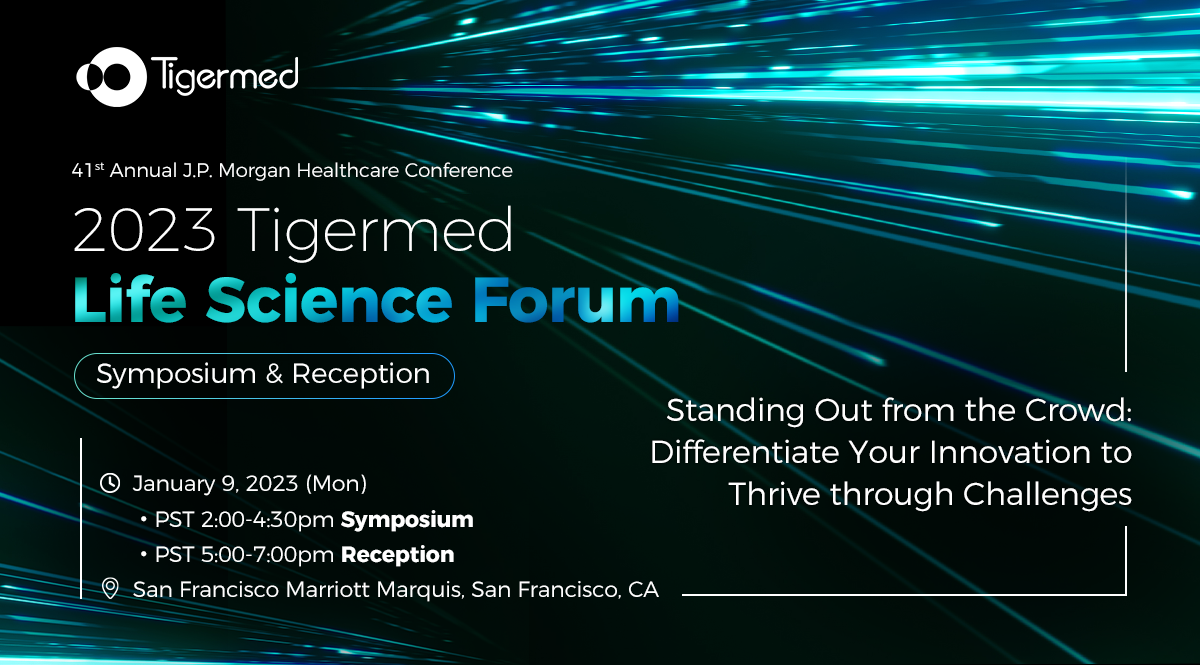 It is with great pleasure to invite our partners, shareholders and friends to attend the 2023 Tigermed Life Science Forum and Networking Reception on January 9, 2023, at San Francisco Marriott Marquis during the 41st Annual J.P. Morgan Healthcare Conference.
Tigermed connects life science leaders, emerging companies, clinical research professionals, and investment community to discuss important science & capital issues in 2023 and share innovative strategies to thrive in this rapidly evolving space.
The countdown is on! We' d love to see you among us at the Tigermed Life science Forum.
Date:
January 9th, 2023 (Mon)
Time (PST):
2:00- 5:00 pm Symposium I 5:00- 7:00 pm Reception
Venue:
Golden Gate B, San Francisco Marriott Marquis (780 Mission Street, San Francisco, CA)
What you could get:
8:00 am-12:00 noon, Face to face consultation. Free guide on designing your global clinical trial efficiently and cost-effectively (Limited availability)

2:00 pm-5:00 pm, Tigermed Life Science Forum. Focusing on the global collaboration of successful funding and advancing your pipeline from clinical development to commercialization

5:00 pm-7:00 pm, Networking Reception. Having a relaxing break while diversifying business opportunities, creating new connections, and exploring robust runway of global partnering opportunities
For more information or meeting request: info@tigermedgrp.com
Agenda:
2:00—2:15pm
Opening Remarks
Munish Mehra, PhD, Principal Biostatistician, Tigermed
2:15—2:35pm
Bridging between China and US: Collaboration and Opportunity
Xin Huang, Vice President, Tigermed
2:35—2:55pm
Leveraging Licensing Deals to Drive Healthcare Innovation
Wen Chen, Founder, Yonghua Capital
2:55—3:15pm
China Rare Disease 2.0: How to be Smart to Unlock the Big Market
Shawn Xiang, PhD, CEO of RareStone Group
3:15—3:35pm
R&D innovation across China and US
John Zhu, PhD, Founder of Duality Biotech
3:35—3:55pm
Building Global Biotech: Key Issues to Watch in 2023
Jay Mei, MD, PhD, Founder, Chairman, and CEO, Antengene
3:55—4:20pm
Excellent Clinical Operation for Success in Global Study
Britney Winterberger, Senior Director of Project Management, Tigermed
4:20—5:00pm
Panel Discussion / Q&A
5:00—7:00pm
Networking Reception