Tigermed Lists on the Hong Kong Stock Exchange
August 7, 2020
Hong Kong and Hangzhou, Aug.7, 2020 – HANGZHOU TIGERMED CONSULTING CO., LTD. ("Tigermed"; Stock code: 300347.SZ/3347.HK) announced its listing on the Main Board of the Hong Kong Stock Exchange today.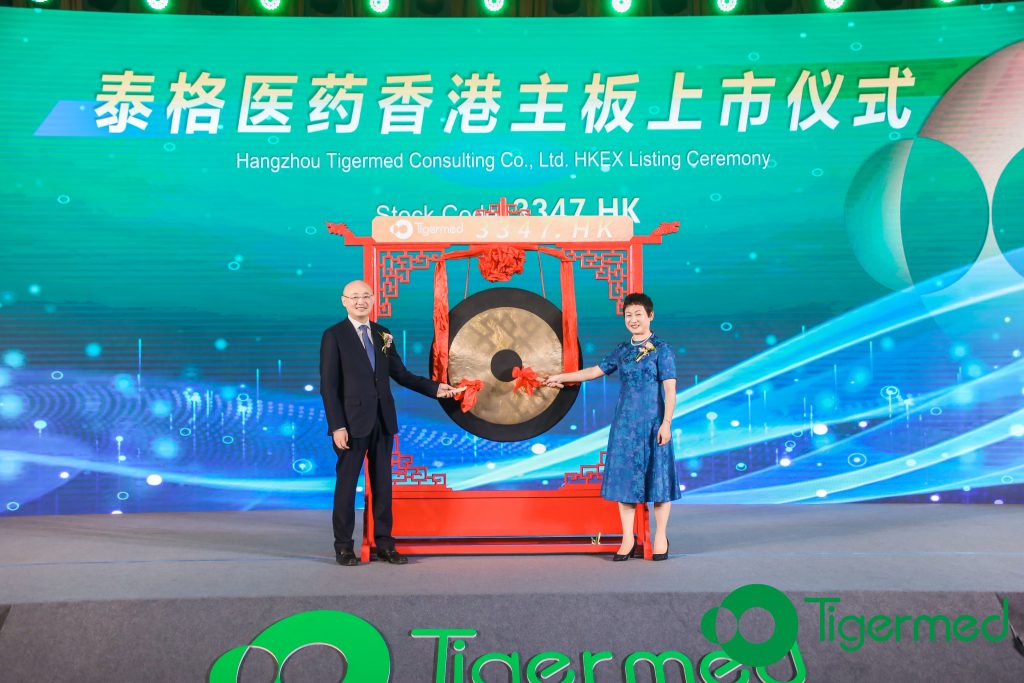 Based on the offer price of HK$100 per share and approximately 107 million H-shares issued (subject to the Over-allotment Option), the net proceeds to be received by the Company, after deduction of the underwriting commission and other estimated expenses payable by the Company in connection with the offering, are estimated to be about HK$10,272.5 million (assuming the Over-allotment Option is not exercised). The funds will be used to expand and enhance Tigermed's service offerings and capabilities across clinical trial solutions services and clinical-related services, to fund potential acquisitions and minority investments, to develop and implement technologies to enhance the quality and efficiency of Tigermed's comprehensive service offerings, and to boost working capital.
The successful listing on the Hong Kong Stock Exchange marks the landing of Tigermed's "A + H" dual-capital platform. It will provide strong capital support for the Company's future global operation and business expansions, which will accelerate the pace of the Company's internationalization strategy. Moreover, this will also lay a solid foundation for the Company to further consolidate and expand its integrated biopharmaceutical R & D service platform and expedite the global development of innovative drugs.
Dr. Ye Xiaoping, Chairman of the Board of Tigermed, said: "The successful listing on the Main Board of the Hong Kong Stock Exchange is another important milestone in the development of Tigermed, and I sincerely thank all our stakeholders for their long-term support and trust. We will take the listing of H-shares as a new starting point for fulfilling the Company's mission and continue to improve our global expansion strategy, execution and operations. In addition, we aim to strengthen our quality certification infrastructure, and constantly improve the capability and efficiency of our research and development services. We will continue to contribute to facilitating accelerated product commercialization for our clients, provide patients and doctors with innovative therapies, and benefit human health."
About Tigermed
HANGZHOU TIGERMED CONSULTING CO., LTD. (Stock Code: 300347.SZ/3347.HK) is a China-based leading provider of comprehensive biopharmaceutical R&D services. Founded in 2004, Tigermed has established a comprehensive suite of biopharmaceutical R&D service offerings, high-quality relations with its customers, and a broad network of partners. Moreover, the Company has been a pioneer in global expansion of China-based clinical CROs, with a continuously expanding global presence. Tigermed's mission is  to  improve  health  by  accelerating  the  development  of  innovative  and effective  treatments  for  patients everywhere, and the Company is committed to promoting the efficient development of pharmaceutical products and providing innovative and clinically valuable therapies to patients and physicians worldwide for the benefit of human health.
Headquartered in China, the Company has more than 60 subsidiaries and more than 100 offices, laboratories and R&D bases worldwide, including 17 overseas operation sites across 12 countries and regions in the Asia-Pacific region, North America and Europe. Currently, Tigermed employs about 5000 professionals globally.
For more information, please visit the Company's website at www.tigermedgrp.com